LawCare hits milestone number of people helped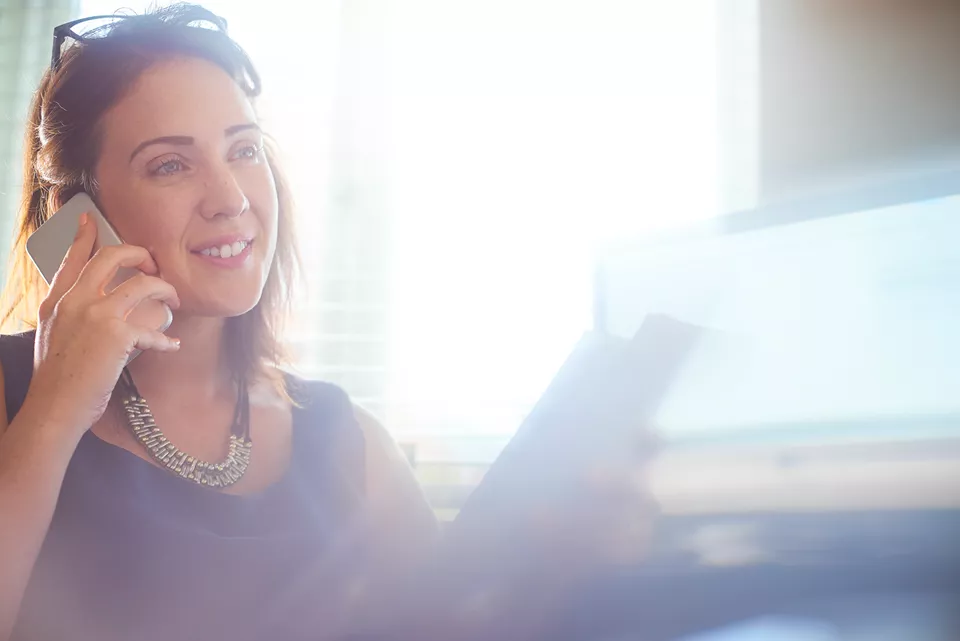 LawCare hits milestone number of people helped
Legal mental health charity LawCare has helped over 10,000 legal professionals and support staff since it began in 1997.
The charity, which was initially set up to help solicitors with alcohol problems, has grown to support everyone working in the legal profession on a range of issues from stress to bullying.
Elizabeth Rimmer, Chief Executive of LawCare, said: 'We are very proud that we have supported over 10,000 people in the legal community since we began 25 years ago, with a small office space in the corner of our first employee Barry Pritchard's kitchen and a grant from The Law Society of England and Wales. It's been a difficult couple of years for us all and we continue to offer free, confidential, emotional support to anyone that needs us in the profession, on any issue that is worrying them, no matter how small.  In our 25th anniversary year we plan to extend our advocacy work to help change the culture in the law, making it a healthier and happier place to work.'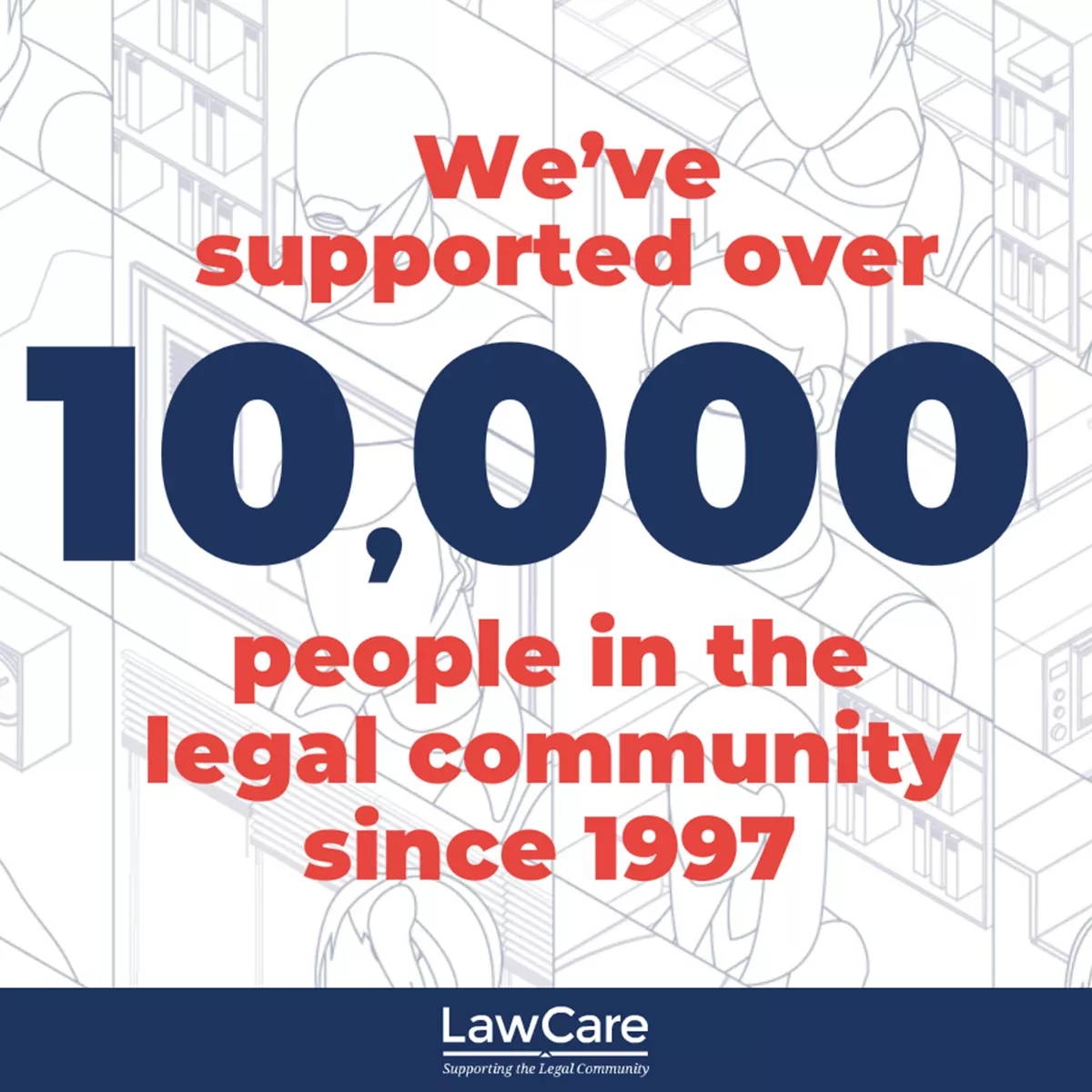 Last year LawCare provided support to 667 people via 662 phone calls, 119 emails and 50 online chats including providing ongoing peer support to 64 people and funding counselling for 14 people. The most common problems cited were stress (33%), anxiety (13%), bullying (8%), depression (10%) and worries about career development (8%).  The number of people contacting LawCare experiencing stress has seen the biggest increase - from 170 people in 2020 to 211 last year - a rise of 24%.
The majority of those who contacted the support service were women (69%). 63% were trainees/pupils, or had been qualified less than five years, and a further 5% were law students.
You can view our full 2021 impact report here.
Anyone working in the law including support staff can contact LawCare for free, confidential, emotional support on 0800 279 6888, email support@lawcare.org.uk or visit www.lawcare.org.uk
The chart below shows the number of professionals contacting LawCare by year.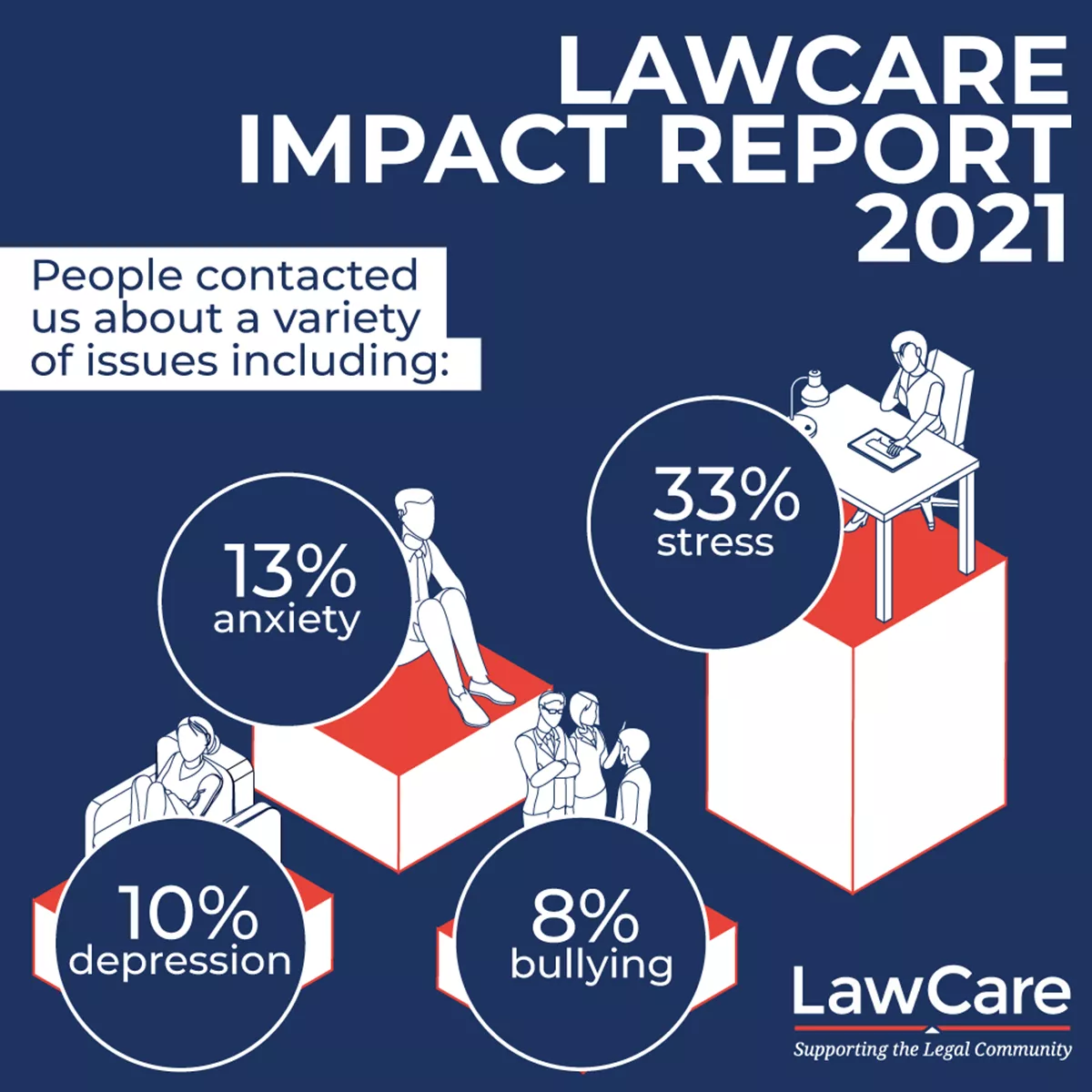 For all media enquiries contact Gemma Matthews, Communications Manager on gmatthews@lawcare.org.uk or 0208 777 2176 /07813 949633
NOTES TO EDITORS
Reasons for contacting LawCare
Alcohol – 2%
Anxiety – 13%
Bereavement – 1.5%
Bullying – 8%
Career Development – 8%
Chronic Illness – 1.5%
Depression – 10%
Disciplinary – 7%
Ethical Issues – 1.5%
Relationship issues – 2.5%
Sexual Harassment – 2%
Stress – 33%
Other – 12%
Percentages do not add up to 100 due to rounding.
About LawCare 
LawCare is an independent charity offering emotional support, information and training to the legal community in the UK, Channel Islands and Isle of Man. We work to promote good mental health and wellbeing in legal workplaces.

We're here to help through our confidential helpline, email, online chat service and one-to-one peer support network. The helpline number is 0800 279 6888 and you can access other support, information and resources at lawcare.org.uk

We help all branches of the legal profession: solicitors, barristers, judges, Chartered Legal Executives, paralegals, trade mark attorneys, patent attorneys, costs lawyers, support staff and concerned family members.
Our support spans the legal life from student to training to practice and retirement. 
We're here to listen...without judgement
Real stories of people in the legal community who have experienced stress, depression, anxiety and more.
Sign up to receive our newsletter.