The LawCare team: Supporting the Legal Community
A message from our patron, the Lord Chief Justice of England and Wales, The Right Honourable The Lord Burnett of Maldon.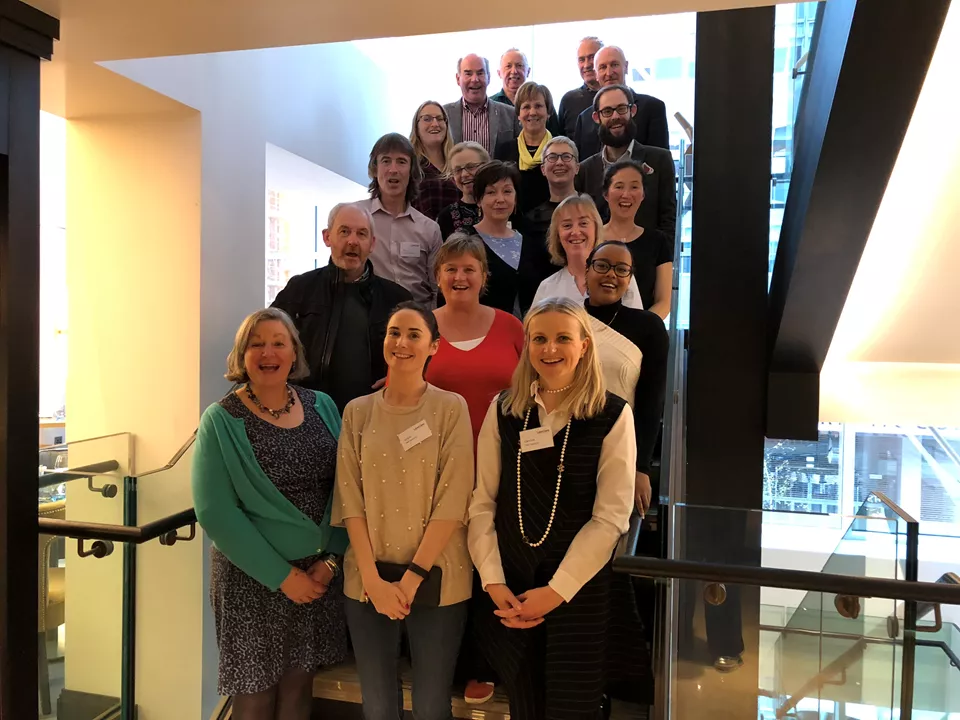 The LawCare staff team
Elizabeth Rimmer

Chief Executive

Elizabeth started her working life as a solicitor specialising in clinical negligence. She has been managing and developing charities in the mental health sector for over 15 years, and joined LawCare as Chief Executive in 2014.

Trish McLellan

Director of Engagement

Trish McLellan joined LawCare in 2005. Prior to this she practised as a family law solicitor in England before moving to Edinburgh where she is now based. Trish has a breadth of experience of the support we provide and was the staff lead on our Life in the Law research study; she regularly speaks about mental health at legal events.

Niamh Warnock

Engagement and Relationship Manager

Niamh joined LawCare in February 2022 after 14 years working in the legal sector. Following on from 11 years practising as a property solicitor she took on a role with LawCare managing our team of amazing volunteers. Niamh now works alongside Trish building and developing our stakeholder relationships and raising awareness of our services with a particular emphasis on Northern Ireland. In this new role she continues to work alongside our support services team and also manages our Champions programme.

Rose Donnelly

Engagement and Development Manager

Rose joined LawCare as Office Manager in May 2021 after an administrative career spanning nearly 30 years, with experience in the legal and charity sectors, as well as five years running her own business. Rose's new role encompasses building and developing key relationships with LawCare's stakeholders and donors, in particular in England and Wales, and managing LawCare's events and fundraising activities.

Anna Buttimore

Support Services Manager

Anna is responsible for the day-to-day running of the LawCare support service. She is LawCare's longest serving member of staff, and joined us in 1998 after working as a legal secretary for a sole practitioner.

Andrew Darnton

Support and Volunteer Coordinator

Prior to joining LawCare, Andrew spent 15 years working in the law, both as a commercial property solicitor and as a legal technology consultant. He is also a qualified mountain leader and wildlife enthusiast, championing the benefits of spending time in nature. Andrew looks after our dedicated volunteers and supporters and is passionate about improving wellbeing in the legal community.

Sarah Fitsell

Communications manager

Sarah joined LawCare at the end of 2022. She has over 20 years experience working in communications and campaigning roles for charities and not-for-profits.

Emma Manley

Office manager

Emma joined LawCare in April 2023 and she is responsible for the efficient running of LawCare's administrative processes. Emma has worked for 30 years in a broad range of roles within local government and the charity sector.

Mary Jackson

Training Consultant

Mary has been a teacher and a solicitor, as well as Manager of the Law Society's South West Regional Office. Mary has been with LawCare since 2008. She is also a therapeutic counsellor and a full member of the BACP.
Our trustees
Andrew Caplen

Our chair Andrew is a Solicitor and Notary Public. He was President of the Law Society of England and Wales from 2014/2015. Andrew is a Consultant with Heppenstalls Solicitors in Hampshire. He is also Chair of Spurgeons Childrens Charity and Co-Director of 'Restored', a charity making a stand against issues of gender based violence.

John Guerin

John Guerin is a partner at BLM in Belfast where he specialises in defence litigation for insurance companies, employment law, and professional disciplinary and regulatory work.

Claire Joseph

After a fee earning career spanning 20 years, Claire's passion for driving the inclusion and wellbeing agenda led to a full-time career change and Claire is now the Inclusion and Wellbeing Manager at Pinsent Masons. She is also Chair of Lawcare's EDI Working Group.

Kayleigh Leonie

Kayleigh is solicitor specialising in employment law. Kayleigh has undertaken research, written articles and published best practice guidance for employers on supporting the wellbeing of their employees on behalf of The Law Society of England and Wales.

Alexandra Marks

Alexandra Marks qualified as a solicitor in 1983, and was a partner at Linklaters (1990-2003). She now sits as a Deputy High Court Judge, Recorder and First Tier Tribunal Judge.

Ryan McCuaig

Ryan McCuaig is an Associate in Infrastructure, Construction and Engineering Disputes at international law firm CMS, based in Glasgow. He previously chaired the board of a large charity in Scotland for four years and is an active member of the Men's Wellbeing Group, which is a regular informal gathering of men in the legal profession to discuss topics focussed on mental health and wellbeing. Ryan is a first-generation graduate who was raised in one of the most deprived areas of the UK and has been a passionate advocate for social mobility in the legal and wider professions, a topic which he is regularly engaged to speak on at conferences and other events. Ryan also sits on LawCare's Equity Diversity and Inclusion Committee.

Heather McKendrick

Having studied the LLB at the University of Aberdeen, Heather has worked in Judicial training and in marketing before taking up a post at the Law Society of Scotland, where she has worked for the for the last 12 years leading the Careers and Outreach Team. Heather has established a number of national projects for the current and future members of the Scottish legal profession such as a mentoring project for trainees and solicitors. Heather has been involved in the development of a charity to support young people facing financial disadvantage – the Lawscot Foundation - and now leads this charity, along with focusing on social mobility, diversity and wellbeing within the profession.

Paul Nevin

Paul qualified as a Registered Mental Nurse in 1991, was called to the English Bar in 2000 and is now a Scottish Solicitor. He is currently the Legal Manager (Conveyancing & Commercial) with The Highland Council. Paul also teaches Mental Health on a part-time basis with the University of the Highland & Islands.

Rachael O'Connor

Rachael is an Associate Professor in Law at the University of Leeds and a former corporate tax solicitor at Pinsent Masons LLP. Rachael is passionate about diversity, inclusion and wellness both in legal education and the profession and in her role as Director of Student Support in the School, has led on wellbeing and inclusion strategies and interventions for law students. Her research expertise focus on reverse mentoring as a diversity and inclusion intervention, as well as co-designing interventions with stakeholders and participants. Rachael has won prizes in the higher education sector for her work on reverse mentoring.

Lucinda Soon

Lucinda specialises in advising law firms on professional ethics and SRA regulation. She has a particular interest in matters relating to workplace culture, well-being, and ethical behaviours in the workplace. Lucinda is also a doctoral researcher in organisational psychology. Her research focuses on the workplace environment and well-being of lawyers. She has an MSc in Psychology and is a graduate member of the British Psychological Society (GMBPsS). Lucinda was also a co-researcher on LawCare's Life in the Law research study.

Helen Whiteman

Helen Whiteman is Chief Executive of the Chartered Institute of Taxation. She was previously CEO of CILEx Regulation having also served as COO and head of corporate affairs at CILEx Regulation and director of member services at LawNet.

Emma Williams

A litigator by background, Emma found her calling in law firm Risk & Compliance, specialising in AML, data privacy, professional ethics and SRA regulation. She has worked in the City for over 20 years with the last decade exclusively in US law firms. Outside of her "day job", albeit the connections are not as tenuous as you might think, Emma is a certified Stress & Resilience Coach and Mindfulness Teacher. She is a member of The Law Society's Money Laundering Task Force and a visiting professor at a leading London law school.
Our champions
Karen Baxter

Partner, Lewis Silkin LLP

Karen is Head of Lewis Silkin's Investigations and Regulatory group and sits on the Firm's Strategy Board. She specialises in employment and partnership law, and regularly conducts complex and highly sensitive workplace investigations, alongside her advisory work. Karen has a diverse client base, with a particular emphasis towards advising major domestic and international law firms and other professional services organisations on all aspects of their relationships with their employees and members/partners. This includes resolving issues such as contentious team moves, the enforcement of restrictive covenants and issues arising out of disability and ill health. Karen is a passionate advocate of the importance of mental wellbeing both inside and outside of the workplace, and is a qualified Mental Health First Aider. Karen leads Lewis Silkin's mental health campaign, #ThisPlaceMinds.

Paul Bennett

Partner, Bennett Briegal LLP

Paul Bennett is a solicitor, mediator and arbitrator who advises law firms and solicitors on SRA regulatory matters, anti-money laundering, employment and partnership law at the specialist law firm to other law firms Bennett Briegal LLP. Mental health and solicitors wellbeing is a constant topic of discussion with clients.

Chloe Benton

Associate, Reed Smith LLP

Chloe works at Reed Smith LLP as an Associate in the Banking & Finance team. She is also a qualified Mental Health First Aider. As a keen advocate of mental wellbeing in the workplace, Chloe is passionate about driving new initiatives to bring about positive change in the profession.

Gillian Bishop

Consultant, Family Law in Partnership

Gillian is a consultant at Family Law in Partnership. She is a founding member of the firm, setting it up in 1995 to provide a distinctive client focused family law service. As an experienced family lawyer, Gillian wanted to create a firm for clients looking for a holistic approach to their divorce. Gillian's aim is to keep the family unit as amicably cohesive as possible. Gillian's achievements in law – which include being named as a top-ranked family lawyer by leading legal directories such as Legal 500 UK and Chambers – are a result of her dedication to and knowledge of the profession, but it is her commitment to forming strong relationships with her clients that truly shines through.

Andrea Brewster

OBE Lead Executive Officer, IP Inclusive

Andrea is a Chartered Patent Attorney and a former President of the Chartered Institute of Patent Attorneys (CIPA). She is Lead Executive Officer of IP Inclusive, an initiative which she founded in 2015 to promote equality, diversity, inclusion and wellbeing throughout the UK's IP professions. Promoting mental wellbeing is a key part of IP Inclusive's agenda; Andrea has worked with LawCare on a number of related projects and promotes their work within the IP Inclusive community. She is particularly interested in the intersections between mental wellbeing, diversity and inclusivity.

Sam Brown

Partner, Herbert Smith Freehills

Samantha is a partner at City firm, Herbert Smith Freehills, which she joined as a trainee in 2003. Sam is Head of Pensions and has a wide ranging practice, involving transaction, advisory and contentious matters. In addition to her legal practice, Sam co-chair's the Firm's Ability Network. She is a trustee of the mental health campaigning charity United for Global Mental Health and an advocate for mentally healthy workplaces.

Simon Davis

After nearly 40 years as a litigator Simon understands well how difficult life can be. He says ' We solicitors shoulder the burdens of our clients, taking their stress onto ourselves. Knowing that there is a caring professional out there whose job it is to look after the solicitor is so important.'

Clare Good

Solicitor, Capital Law and Wellbeing Officer, Cardiff Law Society

Clare is a Commercial Disputes solicitor at Capital Law in Cardiff. As chair of the Cardiff JLD wellbeing was top of her agenda and she planned a number of fully booked events for Mental Health Awareness Week. As Clare stands down from chair she will take the role of Well-being Officer with both the JLD and the local Cardiff Law Society.

Catherine Hart

Partner, Professional Support Lawyer

Catherine is a partner and professional support lawyer at Digby Brown LLP, a Scottish firm that specialises in pursuing personal injury claims. Catherine is a member of the Lawscot Steering Group, which was set up in 2018 to provide a clear strategic direction for Lawscot Wellbeing, a Law Society of Scotland initiative that promotes emotional wellbeing. Catherine has a long standing interest in mental health issues.

Gillian Higgins

Barrister and Meditation teacher

Gillian is an international criminal barrister at The Chambers of 9 Bedford Row. She is head of the International Practice Group and is also an accredited meditation teacher. Since 2016, she has been introducing the concept and benefits of mindfulness to the Bar and the legal profession generally. She is author of "Mindfulness at Work and Home".

Jodie Hill

Managing Director, Thrive Law

Jodie trained as a barrister, cross-qualified as a solicitor & founded Thrive Law in Leeds. She's passionate about encouraging understanding and ending stigma around mental health to create a happier, healthier workforce. Her campaigning led to extensive media coverage and saw her shortlisted for Law Society Gazette Legal Personality of the Year 2018 and awarded a fellowship of the Royal Society for Public Health.

Dr Kirsty J Hood QC

Advocate

Kirsty is an Advocate at the Scottish Bar. She has been in practice at the Bar since 2001, and was appointed Queen's Counsel in 2015. While she maintains a varied civil practice, her particular expertise is in private international law. In October 2014, Kirsty became the first woman to be elected as Clerk of Faculty at the Faculty of Advocates – a position which she held until April 2019. Kirsty has shown an active commitment to supporting the equality and diversity agenda within the legal profession. As Clerk of Faculty, she represented the Faculty of Advocates on the Legal Wellbeing Scotland Group which was set up in 2016, and she understands the importance of wellbeing and mental health for the legal profession.

Karen Jackson

Solicitor & Managing Director, didlaw

Karen Jackson is a leading expert in disability discrimination law. She has a particular interest in mental health and is also a fierce advocate for equality and freedom from discrimination and harassment for women at work. Her firm, didlaw, was established following her successful recovery from a heart transplant. Didlaw advises across all areas of employment. Karen is a commentator on disability and sex discrimination issues.

Claire Jacques

Lawyer and psychotherapist

Claire is a part-time commercial/technology lawyer at Taylor Vinters and is also an accredited psychotherapist. She has a particular interest working with professionals and academics; exploring the challenges of working in an often high-pressured professional environment and the impact this can have on emotional/physical wellbeing.

Malvika Jaganmohan

Barrister, St Ives Chambers

Malvika is a barrister specialising in family law. Following a serious mental health crisis in her pupillage year, Malvika has tried to encourage open discussions around mental ill-health amongst lawyers and the support that can be put in place for them. She runs a blog called 'Stiff Upper Lip' which aims to challenge mental health stigma within the profession.

Sam Jardine

Partner, Fieldfisher

Sam is a partner in Fieldfisher's technology and data group. He has worked for the best part of quarter of a century in a profession that is demanding and stressful, yet intellectually rewarding and full of fascinating people. This has taught - and is still teaching - him that if we look after ourselves properly, we become better able to look out for others. He thinks the small things that we do each day along that trajectory will ripple out and ultimately result in a better and emotionally healthier legal community.

Umar is a mental health and mental capacity Solicitor with over 10 years of experience. Umar was previously running mental health departments in some legal aid firms but took a step back in October 2019 to concentrate on his health and wellbeing. In this time, Umar has set up and is running his own consultancy Kank Speaks Legal Ltd in which he continues to offer advice and assistance across a range of matters on mental health, communications and politics. Umar is part of the Leadership team at Dope Black Dads which is an organisation set up to change the narrative around black fathers. The group aims to inspire, heal, celebrate and educate black fathers. Umar is proud to be a LawCare champion as someone who has faced his own issues with his health and wellbeing, Umar is looking forward to advocating on behalf of those whose voices are not heard and to provide a perspective from a black male viewpoint.

Susan Lamb

Group Records Manager, Shell

Susan is a lawyer for Shell International specialising in information management compliance. She leads the Care in Legal Programme for Shell Group Legal and was awarded Shell Legal Leadership team individual award for the Programme . She is passionate about creating a culture that supports mental health and believes that lawyers should "thrive not just survive". She is a qualified NLP Practitioner.

David McCahon

Global Head of Commercial, Innovation and Technology, Legal & Wellbeing Leader at Barclays

David leads the Global Commercial, Innovation and Technology Legal team in Barclays and leads the Legal Department's work on Wellbeing. He qualified as a barrister after getting his law degree from Reading University and a Master of Law degree from Cambridge. He is chair of trustees of a counselling charity in Suffolk, a Governor at Goodenough College in London and on the board of Now Teach.

Nick O'Neill

Chambers Director, Oriel Chambers

Nick had a successful career as a litigation solicitor, working in both the private and public sectors before joining Oriel Chambers as Chambers Director. He is a Lawcare volunteer, mental health first aider and OU student coach / mentor.

James Pereira

QC Barrister and Coach

James is a tenant at Francis Taylor Building, practising in planning and environmental law. He engages in learning, practicing and teaching techniques to support professional performance and wellbeing in the law, believing that the best lawyers are well lawyers. He is a professional organisational and systemic coach, a licensed NLP Master Practitioner, trained in creativity, meditation, hypnosis & non-violent communication.

Wendy Quinn

Senior Risk Lawyer, Pinsent Masons

Wendy has longstanding experience of helping colleagues with mental health issues in the workplace and sees mental wellbeing as key in the legal profession with technological advances making it more difficult to leave work behind at the end of the day. She also tutors at Glasgow University, so sees challenges faced by those entering the profession.

Lloyd Rees

Knowledge Lawyer, Freshfields Bruckhaus Deringer

Lloyd Rees is a Knowledge Lawyer in the Freshfields Bruckhaus Deringer London office. Lloyd's main specialism is Brexit and its implications for business. Lloyd has spoken and written extensively about his own mental health conditions to help raise awareness in the legal profession.

Peter Riddleston

Learning & Quality Director, LawNet

Peter started his career as a solicitor before moving into legal education and professional development. He has significant experience of designing learning programmes for lawyers and is responsible for LawNet's learning programme and quality standard. Peter has introduced training on mental health and wellbeing for LawNet members and has written and spoken widely about his own experiences of anxiety and depression.

Anna Robinson

Senior Solicitor and Psychotherapist

Anna retrained as a psychotherapist (and soon to be clinical supervisor) following a long career as a senior immigration solicitor in the City. She has since practised in both careers; working with a range of emotional issues in her private therapy practice and leading wellbeing initiatives at a highly acclaimed boutique law firm. Anna presents on mental health issues within the legal profession and is a Mental Health First Aid Instructor.

Joanne Theodoulou

General Counsel at Simply Business and Trustee of Mind, the mental health charity

Joanne is the General Counsel of Simply Business, the UK's largest business insurance provider where she is a passionate advocate for workplace wellbeing. She sits on the board of trustees of Mind, the mental health charity, bringing a compassionate understanding of mental health problems based on experience, and with it the vital message of hope.

Emma Walker

NON-PRACTISING SOLICITOR

Emma practised as a solicitor at Leigh Day for over a decade, initially as a Spanish-speaking solicitor in the international department and then, for almost 8 years, working on regulatory and disciplinary matters, co-founding a professional discipline team in 2018 and specialising in advising legal professionals reporting and responding to the Solicitors Regulation Authority. Emma has seen how wellbeing can affect decision-making and the impact regulatory and disciplinary matters can have on individuals, prompting her to become a LawCare champion. Emma currently lives in New York.

Claire Weldon

Associate, DAC Beachcroft

Claire is an Associate at DAC Beachcroft specialising in Clinical Negligence. Claire has worked in private practice for nearly 20 years, but feels that DAC Beachcroft is the first firm she has worked for that puts employees health and wellbeing front and centre. As a member of the firm's Wellbeing Committee, Claire is passionate about making the workplace a better place for all. She has trained as a Mental Health Champion and writes a regular "Wellbeing Wednesday" blog which covers a wide variety of topics connected to achieving the elusive work/life balance.

Rowan White

Senior Vice President, Law Society of Northern Ireland

Rowan White was for many years a partner in the Belfast office of leading Irish law firm Arthur Cox, where he now holds a consultancy role in the Real Estate Group. Rowan was elected President of the Law Society of Northern Ireland in November 2019 and held this role until November 2021. He is now Senior Vice President. Promoting good mental health and wellbeing was one of the key objectives of his term as President.

Victoria Wilson

Barrister, Goldsmith Chambers, and 2020 Chair of Wellbeing at the Bar

Victoria is a family law barrister, practising principally in financial remedy and private law children cases. She is the elected 2020 Chair of the Wellbeing at the Bar Working Group which carries out work on behalf of all barristers, clerks and staff in England and Wales. She is also the Chair of the Family Law Bar Association Wellbeing Subcommittee. Her recent articles include Our Wellbeing Stock, Counsel Magazine, 2020 and Wellbeing: What Has Happened And Where Are We Now? Family Affairs, 2020.

James McFarlane

In-house Legal Counsel in NatWest Group Plc's Outsourcing, Technology and Intellectual Property Team

James is extremely passionate about ending the stigma around mental health and runs a Men's Wellbeing Group for those involved in the legal profession in Scotland. James is also a mental health first aider and has written extensively and appeared on various podcasts discussing his own mental health challenges and the wellbeing challenges within the legal profession as a whole.

Sonay Erten

Consultant Solicitor Advocate at Legal Studio Solicitor

As a late-diagnosed autistic and ADHDer, Sonay is passionate about promoting acceptance of neurodiversity in the legal profession. She is keen for the profession to be accepting of all and openly writes and talks about her experiences of anxiety, depression, burnout and imposter syndrome. She has done a TedX talk on autism and ADHD and is also a coach for autistic and ADHD members of the profession.
LawCare is supported by our fantastic volunteers, all of whom have worked in, or currently work in the law.
Laurie A, Julie B,  Mavis B,  Jane B-S, Kate C,  Lauren D, Huw E, Maria E, Rachel G, Hannah G, Charlotte H, Grace H, John H, Deji H, Sue J, Charlie J, Susan K, Michael L, Angus L, Daniel M, Esme M, Miranda M, Jane M, Neil M, Katie M, Angus M, Anthony M, Sue M, Sophie M, Bernadette N, Lucja N,  Fiona O, Kim P, Naomi P, Claire R,  Lee S, Nina V, Matt V, Forbes W.

Laurie A, Rachel B, Mandy C, Nicola E, Maria E,  Andrew H, Michael L, Frieda L, Daniel M, Sue M, Emma O'B,  Fiona O'K, Jeannie S. Isabel V.

Tim A,  Sue A,  Laurie A, Miranda B, Stephanie B, Kunal B, Christoper B, Caroline B, Rachel B, Jane B-S, Kate B, Jaqueline B, Alexis B, Sarah B, Ann C, Mandy C, Steven C, Angela D, Ann D, Karen D, Melford, Jane D, Francis D, Tanya D, Paul D, Huw E, Rachel E, Sonay E, Ruth F, Michael F, Adi F, Charlotte H, Grace H, Michaela H, John H, Jaqueline H, Stephen H, Deji H, Toby H, Claire J, Sue J, Charlie J,  Sally J, Kal K, Simon K, Susan K, Alberto KP, Michael L, Judith L, Sarah LF, Frieda L, Katy L, Jonathan L, Angus L, Seonaid M, Richard M, Jane M, Esme M, Alex M, Daniel M, Katie M, Maya M, Angus M, Anthony M, Sue M, Sophie M, Sam M, Moya M, Rachel M, Anna M, Joyce M, Gavin M,  Bernadette N, Nick O, Danielle P, Gavin P, Andrew P, Susannah P,  Stuart P, Claire R, Siân R, Andrew R, Martin R, Philip R, Fiona R, Laura S, Manreet S, Simon S, Ashley S, Harriet S, Caroline S, Dan S, Victoria S, Caroline S, Victoria T, Trish T, Wendy T, Nina V, Matt V, Isabel V, Louise W, Forbes W, Jade W, Céline W, Doris W, Carol W.
We're here to listen...without judgement
Real stories of people in the legal community who have experienced stress, depression, anxiety and more.
Sign up to receive our newsletter.